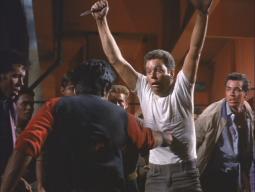 The
1957 Queens Rumble
was a
fight
between the
Sharks
and
Jets
gangs in
New York City
in 1957. It resulted in the deaths of gang leaders
Bernardo Nunez
and
Riff Tamblyn
.
Long had the American Jets and Puerto Rican Sharks fought, so the two arranged for a rumble at a dance. Bernardo Nunez and his 11 other Sharks members faced 12 Jets, both sides armed with switchblades. The Sharks stabbed Riff Tamblyn fatally, and Riff handed his blade to fellow gang member Tony Wycak, who in anger and despair, stabbed Bernardo to death. Soon, NYPD sirens wailed, and the two gangs escaped the scene, leaving behind the two dead bodies.
Ad blocker interference detected!
Wikia is a free-to-use site that makes money from advertising. We have a modified experience for viewers using ad blockers

Wikia is not accessible if you've made further modifications. Remove the custom ad blocker rule(s) and the page will load as expected.