The Babylon Club
, also known as 
The Babylon
, is a nightclub in
Downtown Miami
,
Florida
, which is one of Florida's hottest nightclubs and was formerly a front of the
Montana Cartel
in the 1980s.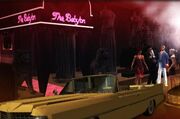 The Babylon Club was created in the 1970s in
Miami
,
Florida
, built by
Jack Primo
, who had built some other clubs around town. The Babylon Club was one of the hottest clubs in all of Miami, with several people attending the dance floor, with disco music blaring. It was originally a front for
Frank Lopez
's cocaine empire and was also frequented by the
Echevierra Brothers
and
Nacho Contreras
. It was the sight of a hit attempt on his lieutenant
Tony Montana
by some of Lopez's hitmen, resulting in the death of Octavio the Clown and injuries to Montana and the hitmen.
After Lopez was gunned down by Tony Montana, it became a front for the Montana Cartel, and in 1983, after a failed assassination attempt on Tony, it became independent. However, Montana regained power, taking over Little Havana and taking over the U-Gin Shotgun bar and O'Grady's Liquor Store. During this time he was attacked by the Diaz Brothers in the club but killed all of the hitmen. Soon, he re-visited the Babylon Club and did a favor for Primo, saving a VIP from more hitmen sent by the Contreras Cartel in order to stop the club from running, as he had control over the bank account of the club, and if he died, the club could never be sold. Montana left over 50 gangsters' corpses on the floor, but the club was repaired and later bought out for $1 million.
Ad blocker interference detected!
Wikia is a free-to-use site that makes money from advertising. We have a modified experience for viewers using ad blockers

Wikia is not accessible if you've made further modifications. Remove the custom ad blocker rule(s) and the page will load as expected.