Paul "Big Fat Paulie" Patriarca
was an Italian-American gangster who was an associate of the
Patriarca crime family
. As his nickname suggested, he was not well-liked, as he was a vile person whom nobody liked to spend time with. He made enemies with tons of people, and was assassinated in 2000 while he spent time with his friend, associate
Peter Griffin
, in a drive-by shooting.
Biography
Edit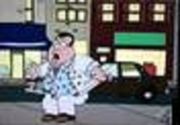 Paul Patriarca was born in Providence,
Rhode Island
, the nephew of the Don, 
Raymond Patriarca
. He was unpopular when he was a young man, especially for his corpulence and his exasperating behavior. Since he was the Don's nephew, he became involved in the family's business, and made even more enemies there. When
Peter Griffin
, a man who owed a favor to the Don for giving him a new car, was asked a favor, he was told to bring Paulie to the movies, as nobody wanted to spend time with him. During the movie, he attempted to murder a person who was sitting in Griffin's favorite seat, firing three shots. Afterwards, he went home for dinner at the Griffin family's house, where Peter's wife, Lois, told him that she did not want Paulie spending time with the family. When Peter Griffin tried to tell Paulie, he ordered a hit put out on Lois, and two assassination attempts on her failed.
When Paulie met with Griffin when Griffin wanted the hit called off, a brown sedan rolled down its windows as a hitman shot him several times with a machine-gun. He was hit at least 50 times in the front, back, and legs, and he fell dead in a puddle of rain water after waltzing a few meters. His murder was unsolved, though it was believed to be ordered by family soldier Tony DioGuardio, who was a trusted family member who approached Griffin earlier to offer him a new car in exchange for a favor. Paulie was buried at the Quahog Cemetery in Pawtucket, and only the Don, Griffin, and a few others attended his funeral; nobody besides his family and his one close friend felt obligated to go.
Ad blocker interference detected!
Wikia is a free-to-use site that makes money from advertising. We have a modified experience for viewers using ad blockers

Wikia is not accessible if you've made further modifications. Remove the custom ad blocker rule(s) and the page will load as expected.