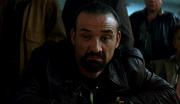 The
Chechen Gang
was an organized crime syndicate part of the
Chechen Mafia
/
Russian Mafia
, founded by
Stepan Kassimov
in 1990. The gang had power in
Los Angeles
, allying with the
Crane Gang
,
Maroni crime family
,
Gambol Gang
, and
Lau Triad
, and fought with the
Dimitrov crime family
and
Falcone crime family
. The gang was exterminated following Kassimov's death in 2008.
The Chechen Gang was formed in 1990 when Stepan Kassimov immigrated to the United States in the new crime wave in the USA, primarily Russians and Chechens, caused by the dissolution of the USSR and the end of the Cold War and Iron Curtain. "The Chechen", as he was nicknamed, recruited not only Russians and Chechens, but also Italians, blacks, and Hispanics, initiating members of several ethnicities. The Chechen Gang did business with the San Francisco Triads, Maroni crime family, and the various African-American gangs of Los Angeles, while he had a rivalry with the Russian Mafia and the Falcone crime family, led by Carmine Falcone, who had a monopoly over the illegal hallucinogen trade. The Chechens were involved in the various Turf wars, fighting both their allies and their enemies for land and drugs.
The Chechen Gang was saved by the epoch following the destruction of the Falcone crime family in 2005, picking up the pieces of Falcone's organization and adding them to their empire. The Chechens extended their business deals overseas with Chen Lau, a Chinese mob boss who was government-backed; his skyscraper was guarded by his thugs as well as PRC Police. He entrusted his money to him after the LAPD confiscated unmarked bills from money laundering rackets owned by the Mob in a crackdown in 2008, and it was held in his building until Chinese special forces broke into his building, killing the Triads and capturing Lau, handed over to the LAPD. The money was confiscated in China, and The Chechen was penniless.
Kassimov was murdered later in 2008 when Maroni betrayed him, killing him with an M1911 pistol and ordering his men to cut up the body and feed it to his Rottweiler attack dogs, getting rid of most of the evidence. However, the NYPD found a finger, and his ID card in his wallet, which was in his leather jacket, thrown to the floor in the room where the cutting-up occurred.
Ad blocker interference detected!
Wikia is a free-to-use site that makes money from advertising. We have a modified experience for viewers using ad blockers

Wikia is not accessible if you've made further modifications. Remove the custom ad blocker rule(s) and the page will load as expected.