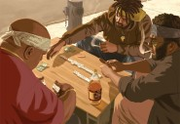 The
Colony Island Gang
was a segment of the
Hop-Skotch Mafia
that operated on
Colony Island
in
New York City
. It was made up of thirteen Jamaican hoodlums led by
Smoker Bill
, a crack-crazed gangster. On June 25, 2008, the gang was eliminated by
The Lost MC
.
The Colony Island Gang was founded early in 2008 by Smoker Bill, a Jamaican immigrant who was hooked on drugs. He sold drugs to twelve associates, who became his employees when he founded his own gang. It was made up of Shaggy Holmes, Ben Barnes, Louis Griffin, Shaky Lawrence, Bobby Bristles, James Madden, Henry Holden, Jim Flannigan, Kyle Peters, Lance Henderson, Carl Adamson, and Jonas Gold. The gang traded drugs with other HSM gangs, but made little money. The Lost MC, a biker gang from New Jersey, expanded their operations into New York City and attacked the Jamaican hideout on Colony Island, initiating a shootout with the Colony Island Gang at their base, leaving Smoker Bill and all of his friends dead in a heap at their cemetery hideout.
Ad blocker interference detected!
Wikia is a free-to-use site that makes money from advertising. We have a modified experience for viewers using ad blockers

Wikia is not accessible if you've made further modifications. Remove the custom ad blocker rule(s) and the page will load as expected.