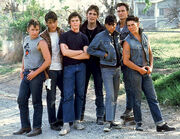 The
Curtis Brothers
were a gang of
greasers
from
Tulsa
,
Oklahoma
, that were led by
Darrel S. Curtis, Jr.
from 1964 to 2009, when Darrel died of lung cancer. They were called the "Curtis Brothers" because they were led by Darrel and
Sodapop Curtis
, and
Ponyboy Curtis
, the youngest, was an ordinary member.
The Curtis Brothers were formed as a gang of greasers who resided in a neighborhood in the East Side of Tulsa, as the underprivileged ("greasers") stuck together in gangs and robbed gas stations and sprayed graffiti, blackening the name of their city. Their leader was Darrel Shaynne Curtis, Jr., but were also led by Sodapop Patrick Curtis, and were joined by Dallas Winston, Steve Randall, Johnny Cade, and Keith Matthews. The gang also included the thirteen year-old Ponyboy Curtis, who was the youngest of the three Curtis brothers. The gang hung out at a grocery store in the East Side, while their bitter rivals the Socs hung out at The Dingo, Rusty's, and The Way Out on the West Side. The greasers fought the 1967 Tulsa gang war against the Socs, and were the gang responsible for the death of Robert Sheldon, who was a Socs gang member. The gang bore the brunt of the brutal conflict, but in the end, with 20 men (including the Brumly Boys and the Shepard Gang), they won a rumble against the Socs, and forced them back to their territory. The Curtis Brothers gang activity decreased by the time Darrel died in 2009, and the gang dissipated.