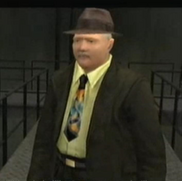 The
DeBellis Crew
was a group operating within the
Cuneo crime family
. It was once controlled and Created by powerful
Capo
Mario DeBellis
from the early 1920s to 1947, when he was killed in a quickdraw with rival mobster
Aldo Trapani
. Afterwards, it was controlled by
his
nephew
, until his own murder in 1955, when the crew dissolved.
Mario DeBellis's crew operated mainly in Little Italy, with over 100 enforcers. The Cuneos were not strong in the area, however, since their main base of operations was their home neighborhood of Hell's Kitchen. DeBellis was a traditional Sicilian, with a violent sense of humor, and when he felt that the Corleone crime family had insulted him, he requested a duel with Aldo Trapani, a soldier under Capo Peter Clemenza. However, Trapani murdered him by pushing him off of the ramp where they met and into the sewers under the Little Italy Loop, although he was shot in the shoulder. DeBellis' soldiers bowed down, and did not shoot back out of respect.
DeBellis' successor was Soldato Federico Pagalo, who controlled what remained of the organization. Pagalo's regime lost all of the Cuneo territory in Little Italy by August 1, 1955, when Don Carmine Cuneo was killed. By then, Pagalo had lost most of his enforcers, who guarded Cuneo. The crew was terminated after the murder of Pagalo in December 1955, after Soldato Federico Pagalo attempted to kill Aldo Trapani for took revenge of his uncle called Mario DeBellis in a drive-by on Murrary Street but his attempt is failed and he was killed by Aldo Trapani.
Ad blocker interference detected!
Wikia is a free-to-use site that makes money from advertising. We have a modified experience for viewers using ad blockers

Wikia is not accessible if you've made further modifications. Remove the custom ad blocker rule(s) and the page will load as expected.