Not to be confused with the Diaz Brothers.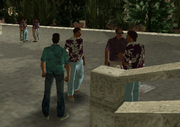 The Diaz Gang was a Colombian-American criminal organization based in Miami, Florida. Led by Ricardo Diaz, the gang was the strongest gang in Miami in 1986, but it was later wiped out by their former associate Tommy Vercetti after he discovered their involvement in an ambush of a drug deal in which he lost his boss Sonny Forelli's money and Victor Vance's drugs. The Diaz Gang was allies with Colonel Juan Garcia Cortez's crew, the Vance crime family (1984-86), Los Cabrones, and Tommy Vercetti (at first), while they were enemies with the Mendez Cartel, Poulet Gang, Streetwannabes, and the Vercetti Gang (later in 1986).
The Diaz Gang was founded sometime in the 1970s by
Ricardo Diaz
, an immigrant from
Colombia
. The gang was based out of Diaz's mansion on
Starfish Island
in
Miami
,
Florida
, which he purchased with money that he gained through selling cocaine, the way that many immigrant Hispanic gangs in the city made their money. The Diaz Gang assisted the
Vance crime family
in destroying the rival
Mendez Brothers
in 1984, but in 1986, they killed boss
Victor Vance
at a drug deal at the docks of Miami and also killed a few members of the
Forelli crime family
sent to deal with him. The only survivors were
Tommy Vercetti
and his mob lawyer
Ken Rosenberg
on the Forelli side and
Lance Vance
on the Vance family side. Lance and Tommy later teamed up to investigate the ambush, but Tommy worked for Diaz after being introduced to him by Diaz's partner Colonel
Juan Garcia Cortez
, not knowing his role in the ambush. Tommy helped him hold off the
Haitian
Poulet Gang
when they attacked him at a deal with the
Cuban
Los Cabrones
gang in
Ocean Beach
and also reclaimed money stolen from him by the
Streetwannabes
gang. Vercetti became rich serving under him, but he later found out that he was behind the ambush. Tommy killed Ricardo Diaz and took over his estate, and his gang either joined Tommy's new
Vercetti Gang
or went defunct.
Ad blocker interference detected!
Wikia is a free-to-use site that makes money from advertising. We have a modified experience for viewers using ad blockers

Wikia is not accessible if you've made further modifications. Remove the custom ad blocker rule(s) and the page will load as expected.