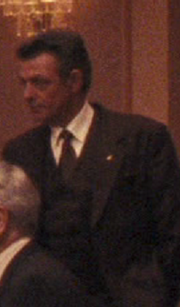 The
Greco crime family
was an organized crime family of the
Sicilian Mafia
. They had jurisdiction over
Philadelphia
, turning the city into an organized crime haven. In 1979, the Greco crime family was destroyed when Greco was killed in the
Atlantic City Massacre
.
The Greco crime family was founded in 1915 by Don Ettore Greco, an immigrant from Prizzi, Sicily. Ettore Greco settled his family in Philadelphia, which was a poor city with a long history of suffering. The Grecos recruited several local people into their criminal empire, becoming one of the strongest families on the East Coast. They became allies with the Corleone crime family, one of New York City's "Five Families". They were business partners for several years, with Ettore's successor Frank Greco aiding in the murder of Nick Geraci in 1964. Frank Greco was killed in the Atlantic City Massacre of 1979 that eliminated The Commission.
Ad blocker interference detected!
Wikia is a free-to-use site that makes money from advertising. We have a modified experience for viewers using ad blockers

Wikia is not accessible if you've made further modifications. Remove the custom ad blocker rule(s) and the page will load as expected.