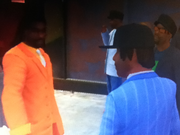 The
Hematite Street Gang
was a gang of
Jamaicans
who immigrated to
America
, led by
Oscar Jai
. Jai's gang was based in a construction site at the intersection of Hematite and President Street. In 2008, Jai and his whole gang were killed.
In 1972, the gang moved to America following the death of Haile Selassie. Oscar Jai, a Jamaican drug dealer, took control of Hematite Street and his gang set up business as drug dealers there. In 2008, construction began on a building on Hematite, so the Jamaicans hung out at the site, next to the crane and all of the debris, vehicles, and barricades. The Lost MC, a rival gang, stormed the hideout on August 8, 2008, and killed all twenty Jamaicans.
Ad blocker interference detected!
Wikia is a free-to-use site that makes money from advertising. We have a modified experience for viewers using ad blockers

Wikia is not accessible if you've made further modifications. Remove the custom ad blocker rule(s) and the page will load as expected.