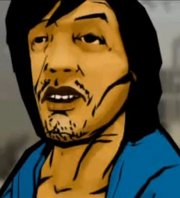 The
Hwajae Kkoch-i Manbalhan
("Blossoming Fire") were an organized crime syndicate that were a part of the
Jopok
organization.
The Blossoming Fire gang were founded in 1945 out of North Korean and South Korean immigrants to the United States, and by 1950, were the most powerful family in the whole Jopok. The gang's influence expanded from their place of origin, Koreatown, New Jersey, to Los Angeles, California.
The gang was exterminated in 1953 by the Hangug-ui Mapia, a rival Korean crime syndicate who were trying to get a seat in the Jopok, not just being a gang. The Hwajae Kkoch-i Manbalhan were all killed in a shootout at Hwang's Chinese Restaurant in Jersey City, and the Hangug-ui Mapia took over.
Ad blocker interference detected!
Wikia is a free-to-use site that makes money from advertising. We have a modified experience for viewers using ad blockers

Wikia is not accessible if you've made further modifications. Remove the custom ad blocker rule(s) and the page will load as expected.