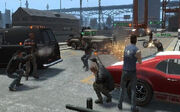 The
La Raia Gang
is a gang that is based in
Weehawken
,
New Jersey
. It is led by Philip La Raia, who along with John Shapiro and Gentile Scarelli, is involved in various drive-by shootings across New Jersey and turf warfare with other gangs.
Philip La Raia (born 1969) is a gangster who is in charge of a gang of various New Jersey gangsters who are responsible for the various shootings in Weehawken, where their main base of operations is. La Raia was arrested in 2008 for mass murder, but escaped from prison and continued criminal activities. The gang gets involved in turf warfare along the New Jersey Waterfront with Mia Cole's Gang.
Ad blocker interference detected!
Wikia is a free-to-use site that makes money from advertising. We have a modified experience for viewers using ad blockers

Wikia is not accessible if you've made further modifications. Remove the custom ad blocker rule(s) and the page will load as expected.