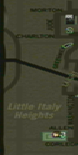 The
Little Italy Heights
is a
neighborhood
in
Little Italy
,
New York City
. During the
Five Families War
of 1946-1955, it was under the control of the
Corleone crime family
, the only neighborhood in Little Italy or the rest of NYC at the time.
The Little Italy Heights were founded in 1912 after the great Italian immigration to the United States. The neighborhood was predominantly Italian-American, which goes without saying. The heights went under the control of the Fanucci crime family in the 1910s, and after Massimo Fanucci was murdered in 1923, it was taken over by the Corleone Gang, later to become the most powerful family in New York City.
The Little Italy Heights was the only Corleone territory in New York City as of 1945, and the Corleone Family took over the rest of Little Italy from the Tattaglia crime family by 1946, and the heights remained under Corleone control for a while. It was also the location of the Corleone Compound, until 1952, when the Corleones moved to Las Vegas and the compound was sold to a private interest.
Afterwards, it became the territory of the Pegorino crime family, who had territory in New Jersey as well. The Heights was the location of some of the apartments of Pegorino enforcers, such as the home of Pegorino Underboss Garimberto Vetere.
Ad blocker interference detected!
Wikia is a free-to-use site that makes money from advertising. We have a modified experience for viewers using ad blockers

Wikia is not accessible if you've made further modifications. Remove the custom ad blocker rule(s) and the page will load as expected.