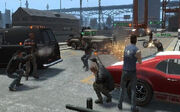 Mia Cole's Gang
is a gang that was founded by Mia Cole and Bill Harvey, two career criminals from
Weehawken
,
New Jersey
.
Mia Cole is a career criminal who is a female assassin, working alongside several other mass-murderers. Cole partnered up with Bill Harvey, an African-American gangster, and the two of them murdered several civilians in drive-by shootings in Weehawken and in Jersey City, but some murders were carried out in Chinatown and Midtown in New York City.
Ad blocker interference detected!
Wikia is a free-to-use site that makes money from advertising. We have a modified experience for viewers using ad blockers

Wikia is not accessible if you've made further modifications. Remove the custom ad blocker rule(s) and the page will load as expected.