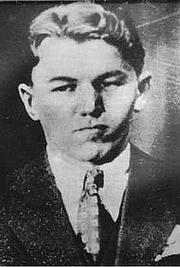 The
Nelson Gang
was a gang of midwest bank robbers named for their leader
Baby Face Nelson
, who included
John Dillinger
,
Homer Van Meter
,
Tommy Carroll
,
Eddie Green
,
Red Hamilton
, and
Pretty Boy Floyd
.
Baby Face Nelson founded the gang in 1928 after being charged with numerous crimes starting with the accidental shooting of another child in 1921 when he was only twelve. He robbed his first bank in 1930, and began to collect people to serve in his outlaw crew. He aided John Dillinger in his escape from prison in 1934, and continued his raids on banks, from South Dakota to Texas. He committed the 1934 Mason Bank Robbery, getting away with $52,000 and a few bullet wounds. Dillinger was also wounded in the attack. Later, they killed Roy Fritsch, a witness in the case against the Nelson Gang's leaders Bill Graham and Jim McKay, and threw his body down a mine shaft. The FBI attempted to kill the gang's members in the Battle of Little Bohemia, but failed and an agent was killed, as well as a civilian.
After Dillinger was killed, Nelson became the top one on the hit list for the FBI. In November, outside of Chicago, the FBI attacked Nelson. Nelson killed two of the FBI Agents before being shot several times, taking seventeen wounds. His fellow mobster John Chase survived and was apprehended, but Nelson died of his wounds.
Membership
Edit
Ad blocker interference detected!
Wikia is a free-to-use site that makes money from advertising. We have a modified experience for viewers using ad blockers

Wikia is not accessible if you've made further modifications. Remove the custom ad blocker rule(s) and the page will load as expected.