Parnell "Stacks" Edwards
was an African-American mobster who was associated with the
Lucchese crime family
of
Brooklyn
. Edwards was best known for taking part in the
Lufthansa Heist
, and his death afterwards at the hands of
Tommy DeVito
.
Biography
Edit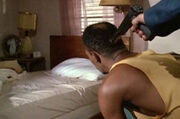 Parnell Edwards was born in The Bronx to a family from North Carolina and Virginia. In 1967, he met
Tommy DeVito
, who introduced him to the Lucchese family, and he became associated with the family. Edwards was a popular member of the
Cicero Crew
, as he was also a less-known singer back in his day, and he became best friends with DeVito. During the
Lufthansa Heist
of 1978, he was tasked with driving the getaway vehicle, and destroying it once the robbery was over. However, he instead spent the night with a girlfriend and was hooked on marijuana, leaving the vehicle, and his fingerprints were on the car, leading the
NYPD
right to him.
To get rid of this threat, Jimmy Conway sent Frankie Carbone and Tommy DeVito to whack him at his apartment. In the morning, he was woken up, told that he would be sent to do a job with DeVito and Carbone. As he put his shoes on, DeVito shot him in the back of the head, execution-style, splattering his blood on the bed. He shot his body several more times, before leaving the apartment with Carbone and driving away from the apartment.
Ad blocker interference detected!
Wikia is a free-to-use site that makes money from advertising. We have a modified experience for viewers using ad blockers

Wikia is not accessible if you've made further modifications. Remove the custom ad blocker rule(s) and the page will load as expected.