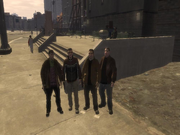 The
Presidents City Albanians
are a
set
of the
Albanians
gang, led by
Jordan Petrovic
. On August 2, the Presidents City Albanians were close to destruction when they were attacked by
The Lost MC
, but the
NYPD
intervened and arrested Lost MC President
Johnny Klebitz
on the spot, stopping the elimination of the Albanians.
The Presidents City Albanians were founded in 1989 when the Albanians immigrated to America, founding the Albanian Gang. The Presidents City Set was one of the first sets to be established, besides the Little Bay Albanians and Hove Beach Albanians. The Presidents City Albanians were nearly eliminated in a The Lost MC attack on a convoy of Albanian mobsters in Lower Easton-Presidents City's border area, but the NYPD arrested Lost MC leader Johnny Klebitz during the fight and the Lost MC fled. They maintain a formidable presence there.
Ad blocker interference detected!
Wikia is a free-to-use site that makes money from advertising. We have a modified experience for viewers using ad blockers

Wikia is not accessible if you've made further modifications. Remove the custom ad blocker rule(s) and the page will load as expected.