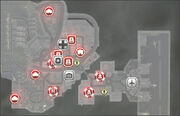 Queens
is one of the five boroughs of
New York City
, made up of the neighborhoods of
Jackson Heights
,
Corona
,
Hollis
,
Jamaica
,
Flushing
,
Meadow Hills
,
Meadows Park
,
Dodge Island
,
Long Island City
,
Forest Hills
,
Queensbridge
,
Ward's Island
,
Randall's Island
, 
Triboro
,
Astoria
,
Shoreside
, and
Ozone Park
. It is currently the territory of the
Gambino crime family
, but it was controlled by the
Corleone crime family
in 1959.
Queens is one of the five boroughs of NYC, and the largest. It has a considerable Italian population, and it is the territory of the Gambino crime family, although in the 1950s, it was the territory of Corleone Capo Aldo Trapani and his successor Dominic, while Frank Pentangeli operated mainly in this area. Carmine Rosato's Family took over briefly in 1959, but Dominic retook the whole area in the war that made his reputation. However, the Gambinos moved in and took over most of the neighborhood, as the Corleones moved to Las Vegas and the Trapanis were reduced to a few made men, while their representation of the Corleones in New York was given up to the Clemenza crime family, not Dominic.
In 1979, twenty years later, a series of grisly murders occurred here following the Lufthansa Heist. Lucchese associates Parnell Edwards, Tommy DeVito, Robert MacMahon, Joe Buddha, Frank Carbone, and Anthony Stabile were murdered here during the purge of the Cicero Crew to make it so that none of the heist associates could become informants, and so that their boss Jimmy Conway could get all of their money as their share.
Currently, Queens has a large amount of Messina crime family associates, as the neighborhoods of Corona and Jackson Heights had a large Italian-American population. It was the territory of the Pisano Crew, led by Capo Walter Pisano.
Ad blocker interference detected!
Wikia is a free-to-use site that makes money from advertising. We have a modified experience for viewers using ad blockers

Wikia is not accessible if you've made further modifications. Remove the custom ad blocker rule(s) and the page will load as expected.