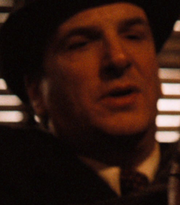 The
Rosato Brothers
were two brothers named
Carmine Rosato
and
Anthony "Tony" Rosato
, who were
Caporegimes
in the
Clemenza crime family
who separated in 1958 and founded
Carmine's Gang
in
New York City
and
Tony Rosato's Gang
in
Miami
(erroneously known as
Tony Rosato's Family
). The brothers were opposites: Carmine was stupid and disorganized, while Tony was intelligent and ruthless, although people could hardly call his organization a crime family.And Underbosses of 
Rosato Crime Familiy
 and Sons of 
Paulie Rosato
They grew up in New York City in Corleone Capo Peter Clemenza's territory, The Bronx, to a Sicilian-American family. Tony Rosato was born in 1912, while Carmine was born in 1919. In the 1940s, they joined Pete Clemenza's Gang, and in 1952, Clemenza was given permission to form his own family by Don Michael Corleone, but they would run New York indirectly under Corleone, as a puppet family. The Rosato Brothers became Caporegimes under Peter Clemenza when he separated, alongside Frank Pentangeli. Clemenza promised them three territories in The Bronx when he died, but when he suffered from a heart attack in 1958 and Pentangeli became Don, he refused to give them the territories after believing that they had murdered him. The Rosatos split from the Corleones/Clemenzas/Trapanis on February 12, 1959, also influenced by the death of Don Aldo Trapani on New Years' Day, since they took what he had left behind and founded two separate gangs. Carmine's gang was destroyed by February 20 by the Corleone Capo Dominic, who flew to Florida and fought Tony Rosato's Gang in Miami, as well as fighting the Granados as an ally of the Roth crime family. Tony Rosato was murdered in January 1960 by Dominic, alongside Don Rico Granados, Mangano Don Samuele Mangano, and Almeida Don Esteban Almeida, ending the 1959 Miami War.
Ad blocker interference detected!
Wikia is a free-to-use site that makes money from advertising. We have a modified experience for viewers using ad blockers

Wikia is not accessible if you've made further modifications. Remove the custom ad blocker rule(s) and the page will load as expected.