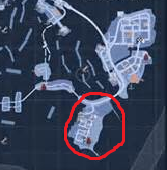 South Beach
is a
neighborhood
in
Miami
, located south of
North Beach
and east of the
Trailer Park
.
South Beach is a neighborhood of Miami that an island off the coast of Little Havana and Downtown Miami, connected by bridges to the Trailer Park, which in turn leads to Little Havana; their way to Downtown is a bridge that extends through North Beach and the Industrial Zone.
In the 1980s, South Beach and North Beach were controlled by Gaspar Gomez and the Gomez Cartel, the most powerful gang in Miami besides Nacho's Gang. The Gomez Gang territory was taken over by Tony Montana and the Montana Cartel in 1984, and it was under his control until his death.
Ad blocker interference detected!
Wikia is a free-to-use site that makes money from advertising. We have a modified experience for viewers using ad blockers

Wikia is not accessible if you've made further modifications. Remove the custom ad blocker rule(s) and the page will load as expected.