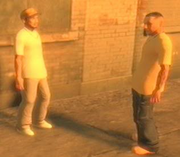 The
Spanish Lords
are a gang of Hispanic criminals who are involved in the 
New York City
drug trade. They are allies with the
Valerio Gang
,
Angels of Death
,
Korean Mob
, and
Yardies
while they are enemies of the
Manhattan Triads
.
The Spanish Lords were founded by Manny Escuela, and deal in extortion, drugs trade, arms trade, drug trafficking, and prostitution. They operate in Fordham and South Bronx in the primarily-Hispanic borough of The Bronx, as well as Corona in Queens, East Harlem in Manhattan, and Jersey City in New Jersey. Escuela eventually left the group because he felt that he needed to clean up the streets, and started a television series about his quest to make New York City's streets safe for the children. However, the Spanish Lords were still a strong gang without him, and while the North Harlem Hustlers' leader Dwayne Forge was in prison, Hustlers leader Playboy X let the Spanish Lords deal drugs with him and let them take over Forge's former business, The Triangle Club.
However, Forge left prison in 2008 and made a connection with Playboy X's contact Niko Bellic, whom he sent to take back The Triangle Club. He killed the Trunchez Brothers, regaining control of his business, and later killed Playboy. The Spanish Lords lost control of their new business, but continue to be a strong gang with sets on both sides of the Hudson River.
Ad blocker interference detected!
Wikia is a free-to-use site that makes money from advertising. We have a modified experience for viewers using ad blockers

Wikia is not accessible if you've made further modifications. Remove the custom ad blocker rule(s) and the page will load as expected.