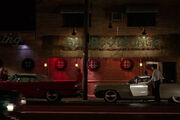 The Bamboo Lounge
was a bar that was a protection racket owned by the
Lucchese crime family
, where their associates hung out. It was run by
Sonny Bunz
until 1963, when it was burnt down.
The Bamboo Lounge was a protection racket owned by Sonny Bunz, an associate of the Lucchese crime family. It was a common hangout for made men under Capo Paul Cicero and Tuddy Cicero, including Henry Hill, Anthony Stabile, Tommy DeVito, and Jimmy Conway. Bunz became a partner of Cicero following an incident in which DeVito injured Bunz by smashing his forehead with a glass, so any reports of trouble with Tommy, the Police, or Union Bosses went to Cicero. However, Cicero was paid every week, even if Bunz's racket was hit with lightning or it set fire. Soon, it could not cash a bill from the bank or buy a case of booze, so it was burnt down by Henry Hill and Tommy DeVito.
Ad blocker interference detected!
Wikia is a free-to-use site that makes money from advertising. We have a modified experience for viewers using ad blockers

Wikia is not accessible if you've made further modifications. Remove the custom ad blocker rule(s) and the page will load as expected.