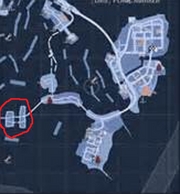 The
Trailer Park
was a
neighborhood
in
Miami
,
Florida
, which was located on an island near
Little Havana
. The Trailer Park was controlled by the
Trailer Park Mafia
in the 1980s, and was also contested by the
Montana Cartel
and
Diaz Gang
. It had a considerable redneck community.
The Trailer Park was a commune established in the 1950s in Miami by southerners who were destitute, forming their homes inside of trailers, which were the size of cargo containers. The park was a poor neighborhood that was high in crime, and Nacho's Gang and the Diaz Gang had considerable territory there; in 1983, Nacho's henchmen tried to assassinate Tony Montana in the Trailer Park, but failed. It was also controlled by the Trailer Park Mafia, a group of the inhabitants who were racist drunkards, either wearing camouflaged shirts with the Confederate flag, or a green shirt with torn-up jeans. The TPM were mainly equipped with baseball bats, and were enemies of the various Cuban gangs and the bikers. Constant turf warfare occurred in the park, until 1986; by then, the park was demolished and turned into a huge vacant lot.
Ad blocker interference detected!
Wikia is a free-to-use site that makes money from advertising. We have a modified experience for viewers using ad blockers

Wikia is not accessible if you've made further modifications. Remove the custom ad blocker rule(s) and the page will load as expected.