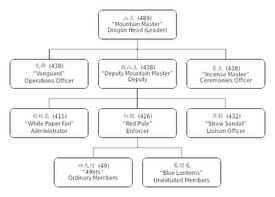 The
Triads
, also known as the 
Chinese Mafia
, are a secret society and criminal organization operating in
China
,
Hong Kong
,
Taiwan
, and the Chinese diaspora, including the
United States
,
Australia
,
United Kingdom
,
Canada
, and
New Zealand
.
The history of the Triads dates back to the 1800s, when the "Three Harmonious Societies" secret organizations were formed. The Triads were a secret society with a similar structure to the Italian Mafia: the Dragon Head is the Don, the Deputy Mountain Master is the Underboss, the White Paper Fan is a Consigliere, the Red Pole is a Capo, the 49ers are soldatos, and Blue Lanterns are enforcers. 
The Triads operate in China and the diaspora, mainly the United States, Canada, Australia, New Zealand, and the United Kingdom. Triads are sometimes seen as legitimate businessmen by China, comparable to the oligarchs and Russian Mafia pakhans of Russia, Belarus, Ukraine, and other former Soviet Union countries. The Triads are a dangerous organization that operate in several major cities of the USA, including New York City, San Francisco, Las Vegas, and Los Angeles. The Triads are also involved in criminal activities to the south of the US border in Mexico, supporting the Sinaloa Cartel and their allies during the Mexican Drug War.