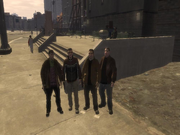 The
Varsity {Heights} Albanians
were a set of the
Albanians
street gang that lasted from 1998 to 2008, when they were killed off by
The Lost MC
.
The Varsity Albanians were founded in 1998 as a set of the Albanians gang from Little Bay, controlling the Varsity Heights neighborhood. The gang lasted ten years; one day, while the gang was on patrol in four cars (carrying the 8 gang members), The Lost MC biker gang killed all of the gangsters before they exited their cars.
Ad blocker interference detected!
Wikia is a free-to-use site that makes money from advertising. We have a modified experience for viewers using ad blockers

Wikia is not accessible if you've made further modifications. Remove the custom ad blocker rule(s) and the page will load as expected.